Portrait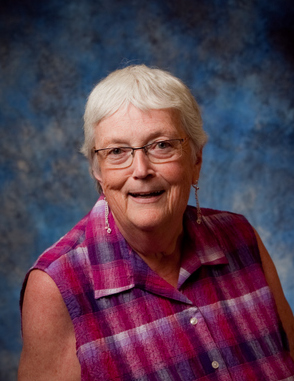 Quotation

It's not enough to do the charity. It's to do the justice, to ask, "Why did a family even have to come to this?"
Biography
In the pouring rain, Liz Burge's taxi arrived to interview Sister Joan O'Keefe, SC, at the impressive Motherhouse of the Sisters of Charity located on a hill overlooking Mount Saint Vincent University in Halifax. Awed by the sheer scale of the Motherhouse, accommodating 900 and with its own beautiful chapel, Liz wondered about the links between life on the hill and life in the city. It did not take her long, once Joan was settled, to see how this irrepressible and politically savvy woman integrated all the worlds she inhabits. Clearly, the concept of charity in the title of her Congregation is more than balanced by Joan's social justice goals for transforming social structures.
In previous lives, Joan was a public school teacher, then a coordinator of Religious Education on Nova Scotia's south shore, and after that, an assistant in parishes there and in Bedford. She holds a Senior Diploma (1967) and a B.A. (1969) from Mount Saint Vincent University and an M.A. (in Teaching) from Saint Francis Xavier University (1977).
For 13 years from 1989 to 2002, Joan was Coordinator of the Home of the Guardian Angel and Single Parent Centre in Spryfield (now, after extensive renovations and additions, called the Chebucto Family Centre), offering support for families, especially single parent families. Joan donated her winnings from the Elizabeth Seton Award in 2000 to the Single Parent Centre. During these years, she also volunteered on boards and committees for a wide range of service agencies.
In 2002, Joan was elected to one of the eight leadership positions in the Congregation of the Sisters of Charity in Halifax, and served in that role for six years. Guiding her work was the Congregational Commitment Statement ratified by the international Congregation in July 2008:
We commit ourselves to bring about structural change in the unjust systems that cause poverty in all its forms. We embrace a personal and corporate transformation to which this calls us.