Portrait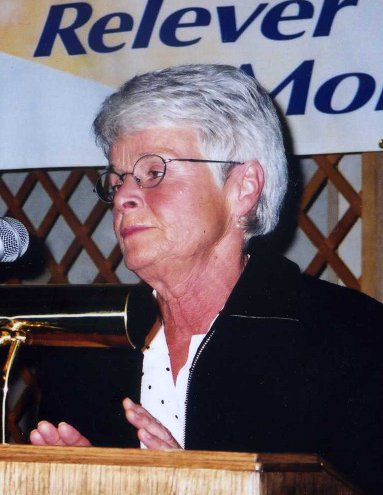 Quotation

It might be a different table you were sitting around, but the issues were similar. Did you ever sit at a women's group where they weren't talking about equality and education? The same issues, just from different angles.
Biography
Madeleine had laid out her notes and documents in preparation for the interview with Liz Burge, with whom she had worked years earlier on the issue of seniors' affordable housing in Fredericton. In her story of tackling the systemic problems in nursing workplaces, Madeleine conveyed the conceptions of strategic, informed action that were carried beyond these workplaces. She is an advocate through and through, no matter what the scale of the issue.
Growing up in Moncton, Madeleine graduated as a registered nurse in 1958 and after 20 years of practice, moved to full-time union activism for her profession. At the same time, she worked as a volunteer with groups dedicated to the advancement of women. Provincial secretary-treasurer for the New Brunswick Nurses Union (NBNU) from 1980 to 1982, she then assumed the presidency until 1990. For several years, Madeleine sat on the Part III Hospital Employees Pension Committee, and on the Board of the New Brunswick Advisory Council on the Status of Women (1988 to 1994). As a volunteer, she worked on the executives of the Canadian Nurses Association and the Canadian Federation of Nurses Unions. Since 2002, she has been closely involved with the Stepping Stone Senior Centre in Fredericton.
In 1991, Madeleine was awarded the Glenna Rowsell Award from the New Brunswick Nurses Union. By coincidence, Glenna had been an influential instructor when Madeleine attended the Eastern Labour School at St. Mary's University. Madeleine was awarded the Governor General's Award in Commemoration of the Persons Case in 2001.