Portrait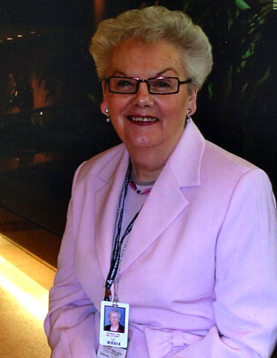 Quotation

Social activism has been a constant thread throughout my life. Even as a child, I seemed to take the leadership role almost intuitively. Later as a teenager in high school and again in the 1960s as a young mother, I was always involved in organizing one group or another.
Biography
Well-kept agricultural fields surround the large farmhouse in north western New Brunswick where Ann Brennan told Liz Burge over tea about her range of community activism. Her intellectual energy and incisive comments on regional and national issues, as well as international cooperation, inspired reflection as Liz drove back to Fredericton, replete after Ann's guided tour of Johnville with its rich history of Irish immigration.
Historical novelist, mother of six, environmentalist, government policy activist, community leader, professional writer, and businesswoman, Ann Brennan decided at the age of 56 to go to university, earning an Honours B.A. in History (1998), and then a Master's Degree in Environmental History from the University of New Brunswick.
Since moving from Fredericton to Johnville, New Brunswick, in 1960 after her marriage, the list of Ann's achievements ranges from raising six children to tackling federal and provincial government policy. She has travelled in Europe for her own studies as well as to supervise elections; written for journals and published collections, and published in the area of poetry, fiction, and history; acted as local historian and record-keeper for five decades; and participated in the NB Writers in Schools Program. Her biography of Katherine Ryan (a.k.a. Klondike Kate), the first female member of the North West Mounted Police, has been adapted for the stage in Canada and Ireland.
In 2003, Ann received the Queen Elizabeth II Golden Jubilee Medal for her decades of community service. From 2004–2008, she served on the Board of Trustees of the Canadian Museum of Civilization Corporation (CMCC), and the Board of the Canadian War Museum. She is very knowledgeable on aspects of Canadian and Irish history, and continues her volunteer work in the Johnville and surrounding community.