Portrait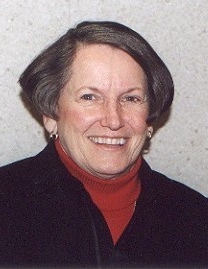 Quotation

It wasn't "helping" as much as it was looking at things that were fair. There was a change in my understanding of what can be done to promote the concept of fairness for women within the financial constraints and the existing policies and procedures.
Biography
Sitting at Mary Lou Stirling's dining table, it was difficult for interviewer Liz Burge to keep her eyes away from the stunning pieces of art hanging on all the walls. But as Mary Lou talked frankly about her life, her experience of negotiating "power" in the context of advancing women's causes, Liz quickly left the art to itself and focused on lessons for her own advocacy.
Mary Lou Stirling had a 27-year career in the Faculty of Education at the University of New Brunswick (UNB). Her years of teaching and subsequent retirement have given her many rewarding opportunities to explore what the concept of "fairness to women" means in practice and policy. A former elementary school teacher with a strong commitment to innovative language arts methods, Mary Lou was a role model for generations of language arts teachers meeting the varied needs of their students in the province. She made valuable contributions to her field in the form of curriculum documents and textbook materials. As Dean of Residences at UNB from 1989 to 1995 she helped to establish a safe, healthy, supportive and academic environment for students in residence.
On her retirement from UNB, Mary Lou became Acting Director of the Muriel McQueen Fergusson Centre for Family Violence Research from 1999 to 2001. She was Chair of the New Brunswick Advisory Council on the Status of Women from 2001 to 2005, and was also the gender specialist for the Canadian International Development Agency (CIDA) from 2004 to 2008 on the UNB project in Bhutan. Mary Lou teaches literacy courses for the Faculty of Education at UNB to teachers in Trinidad and Tobago, starting in 1999 and continuing into the present.