Portrait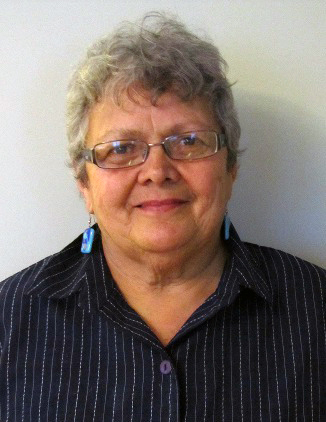 Quotation

If you have three feminine nouns and a masculine noun, the adjective will be masculine. French grammar must have been organized by men. How come our roles are so defined?

Boys would take the wood in and we had to do dishes. I would rather be outside doing things. I think I was always a little bit a feminist; I never accepted those domestic roles. Then, when I grew up and became a teacher and got married, I realized how submissive the women had been taught to be.
Biography
Maria Bernard's summer house in Union Corner, Wellington County, PEI overlooks the Northumberland Strait and offers a brilliant vista of green vegetation and blue water. Maria's critique of French grammar rules and gendered social roles alerted interviewer Liz Burge to a trenchant two hours of observations from her 40 years of lobbying for change.
Maria's career history
| | |
| --- | --- |
| 1960 | Teacher at primary and secondary levels; principal, Evangeline School (École Évangéline); |
| 1988-1989 | Coursework for Master's degree in Social Work; |
| 1984 | President, Evangeline Region's Agricultural Exhibition and Acadian Festival; |
| 1984-1990 | Set up program "New Beginnings" directed to people going through separation, divorce or grieving over spouse's death; |
| 1987-1990 | PEI representative, national New Start (Nouveau Départ) program to help women identify and assess their resources, choices, and life goals; |
| 1995-2002 | Volunteer, PEI Rape and Sexual Assault Centre, telephone help line; |
| 1998 | President, PEI Rape and Sexual Assault Centre; |
| 1999 | Advisory Board member, Institute of Island Studies, University of Prince Edward Island; |
| 1999-2001 | Ran Vieillir en sante program for francophones on healthy aging in mind and body; |
| 2000-2004 | President, Société Saint-Thomas d'Aquin (Acadian Society of PEI); |
| 2002 | Individual Lifetime Achievement Award, from PEI Advisory Council on the Status of Women for achievements working for equality of women and their societal status by "challenging the status quo of patriarchy"; |
| 2005 | "Femme remarquable" award from National Federiation of French-Canadian women (La Fédération nationale des femmes canadiennes-françaises) now blended into The Women's Alliance for Canadian Francophonie (Alliance des femmes de la francophonie Canadienne), national organization for Francophone women living in minority communities; |
| 2006 | Acadian of the Year Award. |