Portrait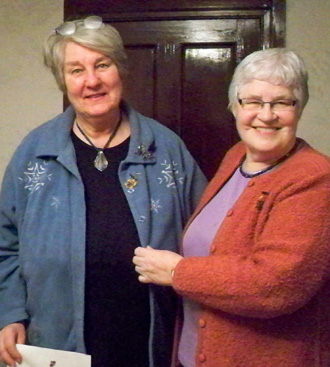 Quotation

You don't always get along with your mother when you're a teenager but you suddenly realize she was the wisest person in your life. I was inspired by her. She always had this tendency to take the side of the underdog.
Biography
A cosy but efficient farm kitchen with sunlight streaming in and enticing cooking scents wafting through the air greeted Liz Burge as she walked into the big house of Edith Perry's rural property at Vernon River. A lovely snack was just the ticket to begin a wide-ranging interview filled with very practical experience and strongly held passions about social justice. But how could Edith look so calm sometimes as she talked about the challenging social issues that have exercised her active mind over almost forty years? The answers lie in her skill sets and lessons learned.
Edith Perry is the widowed mother of two daughters, one son and one baby grand daughter who are the centre of her life. She grew up on a small farm in eastern Manitoba, then worked as a clerk in various places before permit teaching for the Department of Indian Affairs in Northern Manitoba and then working as a child protection worker. In 1985, she moved to Prince Edward Island and worked in a mussel plant while also working at home. Edith loves rural Canada and enjoys community involvement, reading, her work in social justice activism, nature, and her friends. Edith has been awarded "Lifetime membership" status with the New Democratic Party of PEI and with the Women's Institute on PEI. Recently, and happily because of her own advancing into a more "elder" status, she began representing the Women's Institute of PEI on the Island's Seniors' Secretariat.