Portrait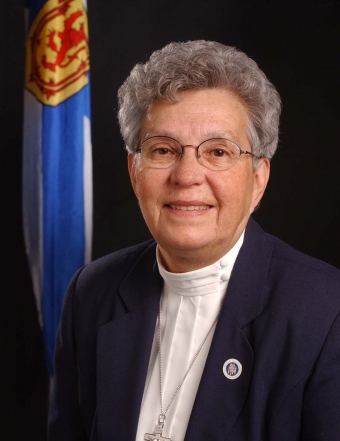 Quotation

Link to the past and focus on the future as we deal with the present.
Biography
The house in Sydney, Nova Scotia, where members of the Congregation of Sisters of St. Martha of Antigonish live, was a warm beacon in the damp rain of a late August morning in 2008. When Liz Burge met Sister Dorothy to conduct the interview from which this summary was derived, she was taken, teacup in hand, to a comfortable room where she settled into an inviting chair beside a window that featured a now sunny outlook. That window served as a metaphor for glimpsing the qualities needed for a life of sustained commitment, perseverance, and warmth. The conversation provided a frame for understanding such a life, as Sister Dorothy spoke with quiet confidence and an occasional twinkling of the eye.
Sister Dorothy Moore was born in 1933 in Membertou, a Mi'kmaw community located near Sydney, Nova Scotia on Cape Breton Island. In 1954 she entered the Sisters of St. Martha, and made her vows in 1956. Her activist work covers an impressive span that includes First Nations preservation of language, education, and human rights. Sr. Dorothy has been widely acclaimed for her significant success in helping to improve the lives of Mi'kmaq First Nations people.
She began her career as an elementary school teacher in Cape Breton and for most of her 22-year tenure as a teacher, Sr. Dorothy taught at schools in Nova Scotia and Alberta. In 1980, she became the Principal of the Eskasoni Elementary and Junior High School. From 1985 to 1995, Sr. Dorothy served on the faculty at the (then) University College of Cape Breton (UCCCB) as Native Education Coordinator, Native Studies counsellor and advisor and classroom lecturer. In addition, she was appointed as Director of Mi'kmaq Services for the Nova Scotia Department of Education. Today, she continues to serve on numerous boards and committees in Nova Scotia. As an educator, Sr. Dorothy has made many presentations on racism, First Nations' education, and Native Spirituality throughout Atlantic Canada.
Among her many honours are the Order of Nova Scotia, Member of the Order of Canada, and honorary doctoral degrees from Mount Saint Vincent University, Cape Breton University (previously the University College of Cape Breton), and Saint Mary's University which recognized "[her] devotion and achievements in education, her service to community, and her ongoing efforts to defend and promote the rights of First Nations' people".
On October 21, 2003 when she was invested into the Order of Nova Scotia, the citation praised her seminal part in establishing a provincial Mi'kmaq language curriculum that was developed and adopted for the province. Invested into the Order of Canada as a Member on November 18, 2005, her citation states:
With conviction and determination, Dorothy Moore has championed the Mi'kmaq Nation. Throughout her long career as an educator, she has created learning opportunities for Aboriginal youth and promoted the inclusion of Native history in Nova Scotia's curricula. At Cape Breton University, she was instrumental in developing the Mi'kmaq Studies Program, which helps to preserve the community's traditions by offering courses in their language, as well as on their history and on their culture. An advocate for social justice, she has also fought against racism and intolerance as a member of the Nova Scotia Human Rights Commission and the Aboriginal Rights Commission.