Portrait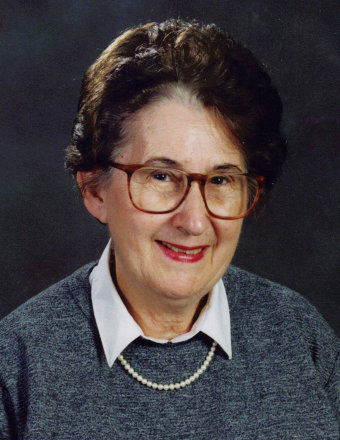 Quotation

Everything starts at the kitchen table!
Biography
May Bouchard's home nestles into a glorious semi-rural landscape on the Northumberland Strait in the historic village of her birthplace, Pomquet, Antigonish County, Nova Scotia. Her awards, which fill a considerable space on the wall, include the Order of Canada, the Queen's Golden Jubilee Medal, and various certificates of merit and appreciation. Liz Burge interviewed May in 2008 – at her kitchen table – and asked why she thought she received the Order of Canada on October 26, 2002. May's reply was typically brisk: "You have to keep it simple… it's being able to work with people, you don't do things alone. It's for what I did when I worked in education… and I worked for women's rights, I worked for seniors."
The Governor General's office explained the award somewhat differently:
A woman of action and a tireless volunteer, she is a model in her community. Known for her deep attachment to Acadian culture, she is equally well known for her pioneering efforts on behalf of the women of her province. In particular, she has served as President of the Association des Acadiennes de la Nouvelle-Écosse and Vice-President of the Fédération des femmes canadiennes-françaises. She brings the same generous dedication to other community causes, thereby promoting the region's vitality and development. Her constant availability for those in need is another example of her altruism and dedication to helping others.
In making May Bouchard an honorary member, the Association canadienne d'éducation de langue française indicated that she "will stop at nothing" to help develop French language and culture. The prestigious l'Ordre de la Pleiade from I'Assemblee parlementaire de la Francophonie was presented to May Bouchard on March 23, 2011 in the Legislative Assembly of Nova Scotia for her distinguished record of service to the francophones of Nova Scotia.
Her interest in cultural heritage extends to educating people of all ages, and to the history of her region as well. May was a founder and President of the Pomquet Historical Society, a Board member of the Pomquet Museum, and President of the Antigonish Heritage Museum.
In addition to other forms of community activism, May is a Board member of the Pomquet Development Society, a freelance reporter for the Courrier de la Nouvelle-Écosse, a member of the Pomquet Ladies Club, and a member of the Ste-Croix Parish choir.
During her interview, May's passion for a wide skein of societal concerns was clear, but always tempered by patience, and her sense of realism.