Portrait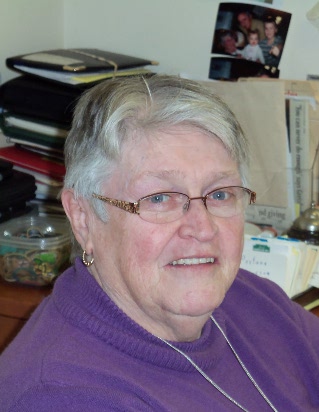 Quotation

I get these brainstorms, you know, everybody is afraid to death what I'm going to come up with next! So I was losing sleep and walking the floors at night, really almost tormented because I was being called to the idea to serve. It's my Christian mission and I was so blessed to find it so early in my life.
Biography
Early one fall morning, Liz Burge watched Romero House staff cooking the daily full meal while waiting clients talked together; the atmosphere was homey. Liz wondered what her interview with Carolyn McNulty might reveal about how Saint John citizens respond to issues of poverty and homelessness. Three hours later, she emerged with a more complex understanding of life behind the serving counter and the multiple challenges of running Romero House.
Carolyn McNulty has over 30 years of direct experience serving Saint John citizens who need food, housing, and basic life services. The driving force behind establishing the widely respected Romero House Soup Kitchen (RH) in 1982, Carolyn continues as its Executive Director, with a succession strategy in place. Romero House has developed as an independent institution that is highly regarded by citizens from every walk of life in Saint John. In addition, Carolyn has served as coordinator of the West Side Food Bank, helped to establish the Saint John Legal Centre, and was a board member of both the Saint John Outreach Clinic and the Saint John Ability Awareness Council.
Public recognition of Carolyn's work includes the Order of Canada (Member), 2004; the Dollard Award, a Roman Catholic Diocese Award for church and community involvement, 2003; the Doctor of Letters, honoris causa, University of New Brunswick Saint John, 1999; the Paul Harris Fellowship, Saint John Rotary Club, 1999; the 125th Anniversary of the Confederation of Canada Medal, 1992; and the Saint John YMCA Canada Peace Medal, 1992.
Carolyn's family continues to occupy a central focus in her life. As seventh in a family of 10 siblings, she herself is mother to seven children and grandmother to 15, and she has fostered 24 children.