Portrait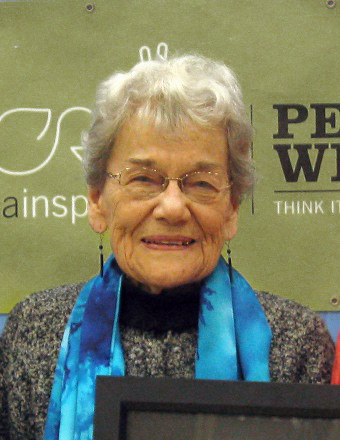 Quotation

I cannot imagine living in this world without working for social change.
My study trips to many parts of the world have brought increasing interest in international affairs, human understanding, and peace.

Biography
Walking into Betty Peterson's apartment in Halifax on a wet and cloudy winter's day was like walking into the United Nations or suddenly seeing sunlight. Interviewer Liz Burge encountered impressive numbers of campaign buttons lined up as if they were soldiers ready for action, and shelves filled with books and papers. But also calling for attention were artifacts and mementoes from trips and from colleagues around the world. Every item looked like it held a story, but Betty was keen and organized, ready to begin on the task at hand.
In 2000, Betty received an Honorary Doctorate of Humane Letters from Mount St. Vincent University, Halifax "for lifetime work to bring about a more humane and just society for all of us". And for Betty, a 1986 national award from Conscience Canada, given for Leadership in Issues of Conscience, was especially meaningful.
On November 24, 2010, 93-year old Betty Peterson was awarded the 2010 Peace Medallion by the YMCA of Greater Halifax/Dartmouth for a lifetime of activism for peace and social justice in the community and beyond.